Selector Switch Common Details
Basic Operating Principle
A set of comb-like wiping contacts, rotated manually, shorts together predetermined combinations of traces on a stationary printed circuit board. These same traces also serve as electrical input/output lines. Here's a simplified diagram of the mechanism.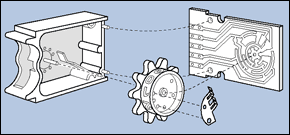 Part of the secret to the long life of these Datex switches lies in the printed circuit board trace geometry. Between active commutator segments is an electrically dead "island" which keeps the wiper from dropping to the bare PC board material during rotation. This minimizes tracking and keeps wear at the edges of commutator traces low.
---
Actuation
Datex offers three kinds of actuation for these rotary multiposition switches.
---
Mounting
Datex provides you with several mounting styles and choices.
---
Mounting Hardware
Extra mechanical assembly parts such as through-rods and fasteners are available on special order.
---
Panel Cutouts
A formula for calculating panel openings for assemblies is shown with each switch series in this site. For assemblies of more than 10 modules, contact factory.
---